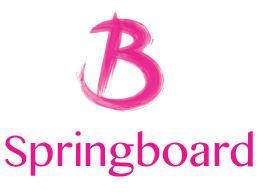 We are hosting a 4-day Springboard programme for Women in Security and related fields on these dates: 16 September, 13 October, 9th and 27th November 2015.
Download Information Flyer: Springboard4security_June15
Download Booking Form: Springboard for Security booking form

The Springboard Women's Development Programme is the phenomenally successful award-winning development course developed for women. It enables you to take more control over your life and career by identifying clear, practical and realistic steps and it helps develop the skills and confidence to take them.
 It is designed for women from all backgrounds, ages and stages of their lives. Although originally written developed for women in non-management positions, women from all levels have participated and benefitted from the programme. Delivered over three months, it consists of five simple ingredients:
–    A superb best-selling workbook, regularly updated and embracing the material for the whole programme
–    Four action-packed one-day workshops spread over three months
–    The provision of real, relevant and inspiring role models
–    The encouragement of effective networks within the group
–    A local support system to enable and sustain progress
Results
There is an abundance of evaluation evidence gathered from a wealth of organisations over many years.
Here is a flavour of the results you can expect:
–    79% of participants say they are better at managing change
–    80% say have increased confidence and self-esteem
–    78% say they have taken on more responsibility
–    84% say they are more open to change since attending
–    83% say they have a more positive attitude.
We have recently delivered in-house Springboard Programmes to City of London Corporation and City of London Police.

WHEN IT COMES TO TRAINING, EVERYONE LIKES TO LEARN SOMETHING DIFFERENT