Meet your contacts at Berkoff Design, City Security magazine and Springboard training

David Berkoff has amassed a wealth of experience from his time in the design and advertising industry, from his early days as Art director at Dorland to working as Creative Director and then Managing Director at Berkoff Design.
David has worked on most business sectors including; IT, Financial, Fashion, Security and companies that include; ARM plc, BT, C&A, ETTA, Grattans, Hays plc, Nortel, Securitas plc, Sun Alliance and UK Sport to name but a few. 
This experience has proved invaluable when integrating publishing and business training into the Berkoff portfolio of services offered.
Today, David manages both Berkoff Design and City Security magazine which was launched nationally in 2012. 
TIME LINE
In October 2003, starting date of Berkoff Design & Communications.
In October 2012, Berkoff Design in partnership with City of London Crime Prevention Association launch quarterly security publication City Security magazine – nationally.
In October 2013, Berkoff Design & City Security magazine move to larger offices at the end of London's Underground Piccadilly line, Cockfosters. City Security now distribution has doubled since launch to 8,000 printed copies nationally
In March 2015, City Security magazine is now also available in both digital and the print format and print run exceed 9,000 copies.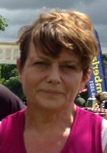 Andrea Berkoff is an experienced writer, trainer and manager. With a passion for communication in all its forms, she works across a variety of areas. These include writing for City Security magazine and facilitating the Springboard development programme.
 Andrea's previous experience in community safety, including 10 years as Community Safety Manager at the City of London, means she is well placed to understand organisations working in security and supporting law enforcement.
 Andrea's extensive CV includes roles as technical author with Digital Equipment Corporation and Uniplex, Partnership Support Officer with City of London Police and training roles with the acclaimed Information Mapping methodology.
Today, Andrea is Features writer and Editor / support for City Security magazine and manages Springboard Training.
With such a broad background and skill areas, Andrea is keen to work with you!