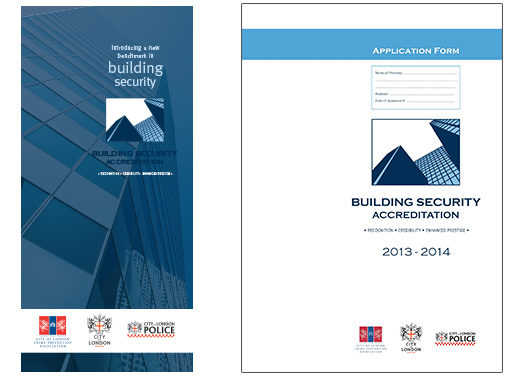 Building Security Accreditation
Once we created the new branding we designed and applied the style across all printed and electronic requirements.
The literature included an informative outline mailer and an A4 Application booklet which was made available as a printed and editable PDF form. The Application form is a functional piece which needed to be easy and clear to complete, where as the Information mailer had to reflect the prestige of the Award.
The awards given to a successful building were elegant Perspex plaques, framed certificates and window stickers all of which we design and supplied.
The initiative is proving to be very successful with many prestigious building across the country taking up the Accreditation such as the Gerkin Tower, The Royal Exchange and Bank of England to name just a few.
We also recently designed the website which is part of the City of London Crime Prevention Association site at www.cityoflondoncpa.org.uk/bsa
SOME LITERATURE NEEDS TO BE EASY TO READ AND HAVE FORMS THAT ARE SIMPLE TO COMPLETE