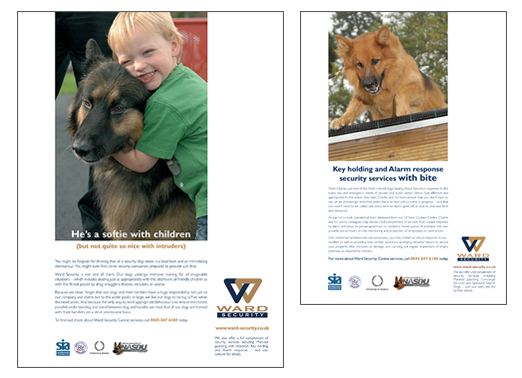 Ward Security
There are a number of companies in the Security Industry who have commissioned us to create Advertising campaigns to help boost sales and create greater awareness of their products and services.
The campaigns featured had to fit with their company values. And in each case we created the unique selling proposition and design style to set them apart from the competition.
Our first Ad was of a boy cuddling a vicious guard dog, a visual that is not normally associated with guard dog companies. But being different is a key to standing out and being noticed, and that is what we think this ad achieved.
One of the key benefits of an advertising campaign as to a one off ad is that you can create a design styling that is memorable to the readers, (as in who the Ad is from) and also highlight different sales messages.
BOY CUDDLING GUARD DOG – NOT WHAT YOU'D EXPECT TO SEE IN A SECURITY AD.