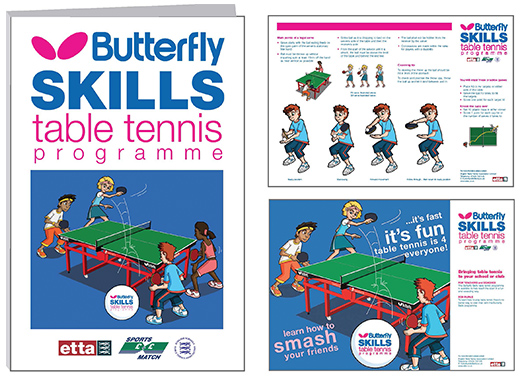 English Table Tennis Association (ETTA)
briefed us to put forward a communication strategy, design and produce materials to launch Butterfly Skills Table Tennis Programme into schools.
The Skills Programme is aimed at school teachers and coaches as an instructional aid to help teach players from ages 7 to 14 to play table tennis.
After creating the branding style, we looked at the packaging of the Programme and proposed that the 180 plus pages manual be contained in an A4 PVC ring binder with pocket in back to contain a Skills Awards booklet a series of five Skills posters and order forms. We also proposed that, as well as the players receiving certificates for achieving their grades, we also reward them with a plastic tube containing 3 branded table tennis balls.
To market the Programme to schools we proposed and produced two Direct Mail campaigns. The first mailing, a 6-page A5 mailer was enclosed in the winter edition of the Butterfly Sports catalogue. This was mailed to 15,000 schools and sports colleges.
HOW WE HELPED TO ATTRACT 7 TO 14 YEAR OLDS TO PLAY TABLE TENNIS