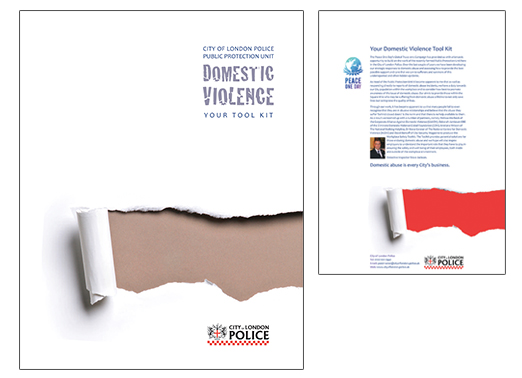 Domestic Violence Toolkit 
We worked with Peace One Day charity and the City of London Police to design the Domestic Violence Toolkit.
The toolkit emphasizes the message that domestic violence is everyone's business and provides information and guidance for how businesses can support victims of Domestic Violence in the workplace. The launch event was supported by Baroness Scotland, PC, QC, Patron of the Corporate Alliance against Domestic Violence, and Heather Small (British Soul singer).
The toolkit consisted of a ring binder which contained useful information from various organisations and charities for HR managers to give staff that suffer with domestic violence.
The graphic design on the cover of a torn piece of paper was completely different approach to the over-used pictures of women in distress.
GOOD GRAPHIC DESIGN CAN HELP ILLUSTRATE SENSITIVE MESSAGES