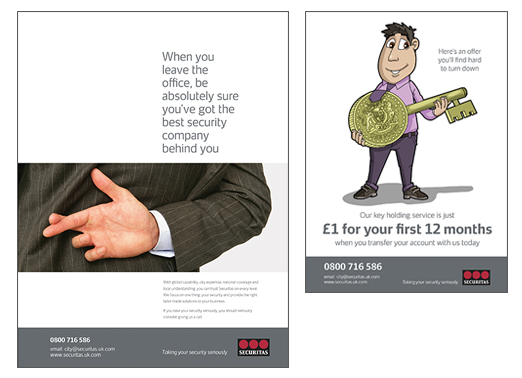 Securitas Security
Securitas are the 2nd largest security company in the UK.
The fingers crossed full page national magazine ad appeared on the back page of City security magazine bringing greater awareness to their 24-7 security services.
The Ad was designed in a business style to appeal to a corporate market.
For a targeted offer to attract new key holding businesses in the London area we produced a local door drop mailer. Our creative approach for this communication was go less corporate in style to a more friendly with a more personal approach.
It is important to know your target audience to maximise best response in terms of the message on the communication and the publication or vehicle to get the message across that you select.
NATIONAL OR LOCAL – MAKE SURE YOUR ADS APPEAL TO YOUR TARGET AUDIENCE